FirstTimer
Author: Bobby Handzhiev
Plugin version: 1.0
Compatible WordPress version: 2.x
Download: Download
Important: The plugin does not work together with WordPress Cache. I am aware of the problem, but don't have the time to fix it right now.
About FirstTimer
We often want to draw attention to the new blog visitors at some specific posts or pages. This plugin checks a cookie on your visitor's PC and identifies if the visitor comes for the first time. If yes, it displays some text and image, usually encouraging the visitor to subscribe or read some introductory posts.
Why Do You Need It?
To capture the attention to first time visitors
To turn search engine visitors into subscribers and regular readers
Because old visitors may get bored to see introductory posts all the time
How Does It Look Like?
The text and HTML that you display to your first time visitors can look in any way, because you are free to design it yourself. See for example how it looks on The Shark Investor:
How Does It Work? (Installation and Usage)
Upload `firstimer.php` to the `/wp-content/plugins/` directory
Activate the plugin through the 'Plugins' menu in WordPress
Configure the text in the admin screen in Plugins/FirstTimer Configuration
Place " in your templates where you want the text to appear
Here is an example:
This is how your configuration page may look:

And this is how you can enter the code: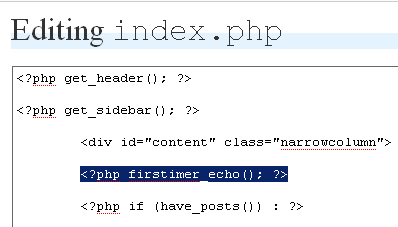 Other plugins from this author
Check also another plugin done by me: Invetsment calculator wordpress plugin and the online investment calculator which demonstrates it.